Aloha, I'm Troy – your certified Yabai Hawaii Adventure guide.  A bit about me – I was raised in Idaho where I spent summers camping, hiking, backpacking, whitewater rafting and teaching cannoning at scout camp.  Yes, I am an Eagle Scout.
After high school I spent three years in Japan, two working for a religious organization and another working construction and at a night club where I learned to DJ!  I was able to learn Japanese there and continue to speak it daily.
I attended Idaho State University and received my BA in Human Resource Training and Development. I raised six children who share my love for the outdoors and visit Hawaii often.
I planned a two-week vacation to Hawaii to visit my childhood best friend and ended up staying. Hawaii is now home, and I love it here. I also love showing people around.  Introducing them to beaches I love, food I love and places I love to visit.  They say if you truly love what you do you will never work a day in your life.  I consider myself lucky and blessed and look forward to you experiencing Yabai Hawaii.
While working at Sky Waikiki, an outdoor lanai restaurant, situated 19 stories above the Royal Hawaiian Hotel, our Japanese guests would walk out and say Yabai!!
Yabai means AMAZING and, like the guests were amazed with the views, we aim to make every part of your adventure tour Yabai.  Whether hiking on a nature adventure to one of the islands beautiful waterfalls, shopping in Historic Haleiwa on north shore, kayaking off the shore of a famous Oahu beach, or tasting some local favorite dishes, our goal is to make every aspect of your adventure unforgettable and Yabai.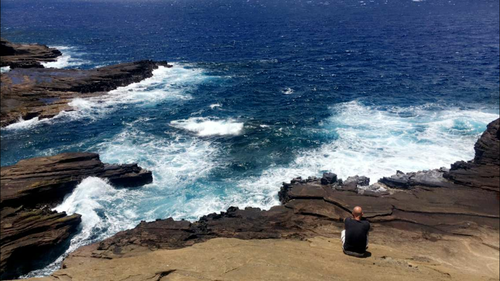 This is NOT a bus tour, this is an ADVENTURE TOUR!!
To take care of, tend, care for.  Yabai adventures were created with Malama in mind.  We appreciate the island and promote care and good stewardship.  We teach history and proper etiquette when encountering wildlife on each tour and even have special educational tours for school groups.
We can't wait to show you around!!